This article originally appeared on The Exchange with Ed Stetzer. You can find the originally article here.
Navigating and leading through a crisis or crises is draining on a leader. For instance, when you take into account the current pandemic (a health crisis) and all the other crises that the pandemic has caused—like economic, resource and organizational crises—it's no wonder that many pastors and church leaders are leading on fumes
In addition to all the crises I mentioned above, we are also in a cultural crisis—one in which it seems that Americans (and even believers) are divided on how to handle. Not to discount the leadership of pastors in other parts of the world or throughout history, but this certainly has to be one of the most challenges times to pastor and shepherd a local church.
Let me ask you pastor, church leader: How are you doing? If you are like the majority of leaders, you're worn out emotionally and possibly physically, according to Barna.
I recently discovered a picture that displays the pictures of Abraham Lincoln each of the years he was President of the United States—all the way up until his death. It is a prime example of the effects of
leadership during a crisis.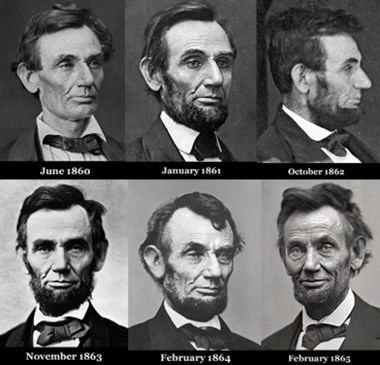 Image: Mathew W. Lively
Nancy F. Koehn, in her book, Forged in Crisis: The Power of Courageous Leadership in Turbulent Times, writes that "He worried constantly. He lost weight because he was too anxious to eat. Since the beginning of the war, he'd had insomnia; now it grew worse…. As the months passed, Lincoln appeared more careworn, and his wife, Mary, and friends, feared for his health" (79).
Let's be honest, are you really surprised that the crisis took a toll on Lincoln? The reality is, whether you know it or not, the current crises are taking their toll on you. Think about it: our lives seek order and long for flourishing. Yet, when we lead an organization or a group of people that is experiencing the unraveling of order and enemies of flourishing, the crisis overworks our body, soul, and mind. As a result, it wears us out mentally, emotionally, physically, and even spiritually.
So, the question I pose for leaders in the midst of crisis is this: what is your plan for self-care to prevent the crisis from driving you to despair?
I believe the prophet Elijah can help us answer this question. In 1 Kings 19, after defeating the prophets of Baal on Mount Carmel, Elijah is coming off a major victory. But Jezebel wanted him dead. Rather than face the threat with faith, he fled. You could say that his mind was in the "basement," as his amygdala processed the emotions surrounding the dark news and alerted Elijah that he was in grave danger.
While in the "basement," Elijah isolated himself from others and expressed to the Lord "I have had enough! Take my life, for I'm no better than my fathers" (1 Kings 19:4).
There will be times in our leadership where everything is going extremely well— times when everything is in order and experiencing flourishing. However, in a moment, a crisis can hit that can immediately change our emotions and leave us feeling like we want to run away, isolate ourselves from everyone else, and crawl in a fetal position and die.
In order to take care of our bodies, soul, and mind in the midst of crisis, we need to have, at the very least, the following five disciplines. I call them disciplines for a reason, because, in the "basement," you will not feel like doing them.
Rest and Eat
The account explains that an angel came to the place where Elijah was, woke him up and told him to "get up and eat."
As a gentle father and a nursing mother, the angel recommends Elijah get up and eat and go back to bed. After he lay down a second time, the angel let him rest and came back to him again reminding him to get up and eat, "or the journey will be too much for you" (1 Kings 19:7).
One of the godliest disciplines you can enact in your life—especially in crisis—is eating healthily and resting well.
Gain Perspective
Well rested and with a fueled body from the food's nutrition, Elijah walks 40 days and nights to Horeb, the mountain of God. Why Mt. Horeb? Horeb happens to be the exact place where God gave Moses the 10 Commandments. Horeb and Sinai are the same place. Elijah goes to Mt. Horeb to seek God.
Years ago, I visited Pikes Peak, a mountain top outside of Colorado Springs, CO. On top of Pikes Peak you could see everything below as well as could see for miles across the horizon. As Elijah goes to seek and meet with God, he will engage a sovereign God who has full perspective of Elijah's life and situation.
When leading through a crisis, it's easy to become depleted, weary, empty, and exhausted. In such conditions, our perspective shrinks, and our eyesight becomes near-sighted. However, positioning ourselves with God on his mountain refocuses our brain, mind, and sight. As a result, we gain the perspective we need to move forward and to lead forward.
Be Real and Authentic
While on the mountain, God asks Elijah, "What are you doing here?"
The moment of truth for leaders is when they are asked the question, "How are you doing?" To answer this question honestly, means that leaders actually have to show up.
In Daring Greatly: How the Courage to be Vulnerable Transforms the Way We Live, Love, Parent, and Lead, Brené Brown discusses how difficult it is for people to be vulnerable and authentic. But to get to the place of vulnerability and authenticity requires the vehicle of courage.
Leaders need to have the courage to be real and authentic, especially in crisis mode. Authenticity provides you and those around you with much-needed emotional intelligence (particularly in the element of self-awareness) to serve as a self-homing device that pinpoints your mind's well-being.
Elijah responds to God and says, "I have been very zealous for the Lord God of Armies, but the Israelites have abandoned your covenant, torn down your altars, and killed your prophets with the sword, I alone am left, and they are looking for me to take my life" (1 Kings 19:10).
When you go to the mountaintop to gain perspective during a crisis, be willing to express and verbalize how you are really doing.
Listen for God's Voice
After Elijah emptied his heart, the Lord told him, "Go out and stand on the mountain in the Lord's presence" (1 Kings 19:11).
This passage is somewhat familiar to most people. Elijah stood on the mountain waiting to encounter and hear from God. As he waited,
there was a great and mighty wind that passed by, but God wasn't in it.
then there was an earthquake that shook the mountain, but God wasn't in the earthquake either.
after the earthquake, there was a fire—surely the Lord would have been in a fire—but he wasn't found in the fire.
After all the heightened signs, there was the faint sound of a whisper. It wasn't the tornadic wind, earth-shaking quake, or the fiery flames that drew him out of the cave. It was this faint whisper.
I think there are times, especially in crises, where we look for a big answer to completely solve the problem, eliminate the threat, or bring order. There may be a time when that happens. However, the voice we need hear—the voice we would otherwise not have chosen to hear—is the still, small voice that is ordinary and common.
In the case of Elijah, the still, small voice was no ordinary or common voice, for it was the voice of God. When Elijah comes out of the cave the voice says, "What are you doing here, Elijah?" The reason why it is common and ordinary—at least this time—is because Elijah had already heard and answered that question.
But there's a second reason why the voice was common and ordinary. After repeating the same answer Elijah gave earlier, the Lord gives Elijah some instructions. He says,
"Go and return by the way you came to the Wilderness of Damascus. When you arrive, you are to anoint Hazael as king over Aram. You are to anoint Jehu son of Nimshi as King over Israel and Elisha son of Shaphat from Abel-meholah as prophet in your place…. I will leave seven thousand in Israel—every knee that has not bowed to Baal and every mouth that has not kissed him." (1 Kings 9:15, 18)
Why is this ordinary and common? Because what God tells him to do is to continue the work of a prophet.
In crisis leadership, self-care is about discerning what you have been called and tasked to do.
If you don't have those moments of resting and eating, gaining perspective, and being real and authentic, you may not experience those moments of the small whispers that tells you to faithfully return to doing the basics of your calling and leadership.
Find Community
Part of God's word to Elijah was that he was going to anoint Elisha to eventually take his place. After he leaves the mountain, he finds Elisha.
Elisha becomes Elijah's sidekick for a short amount of time before God sends divine chariots of fire to pick up Elijah and take him on to heaven. God, in essence, gives Elijah a partner to help carry the load for ministry, someone that he will train to take his place.
As we saw in Elijah's life, when life sucked the life out of him, he tended to run away and isolate himself. When God drew him out, spoke life back into him, God gave him a partner in which to do ministry. Helping hands isn't a sign of weakness, it is a sign of wisdom.
When it comes to the five disciplines of self-care, make sure you have at least one person in your life that is helping you lead.
What you will find in these five disciplines is that when crisis is sucking the life out of you, these practices breathe life back in you.
Without these practices, you will be leading on fumes. And we all know from history and our own experience, leading on fumes is a sure way to burnout.